Vilsalpsee nature reserve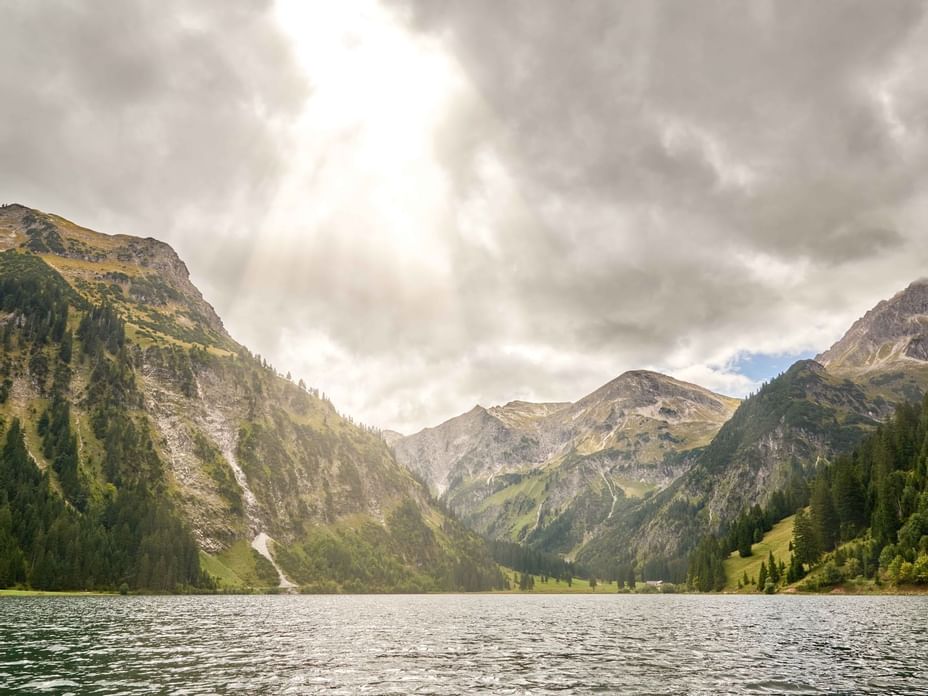 One of the special treasures of the Tannheimer Tal is the Vilsalpsee nature reserve. About 700 species of plants grow on its banks, including rare wild orchids. Great crested grebes and many other birds find the highest breeding area in Austria here.
So if you are looking for peace and relaxation, Vilsalpsee is the right place for you. Bathing is best enjoyed on very hot days, when you want a tingling cool-down, because the temperatures level off in the cooler range even during a nice summer. It's usually around 18 degrees.
But you don't have to dive in headfirst, you can enjoy the lake and the great nature in a different way. For example on a romantic boat trip. There is a rowing boat rental on the north shore. On a hike around the lake you can see the Gaishorn and Rauhorn standing upside down on the reflecting surface. As a destination you might choose the managed Vilsalpe, which is only a few meters from the southern shore of the lake, or the Bergaicht waterfall at the end of the valley.
Two restaurants on the north shore invite you to stop off and they also offer fish specialities, because there are many fish in the clean water, including brown and lake trout as well as lake char, which also makes passionate anglers happy.
Public transport is kept in check in the nature reserve. The access road is therefore closed to private cars from 10 a.m. to 5 p.m. During this time, you can reach the lake on foot, by horse-drawn carriage or by bus.
Vilsalpsee, 6675, Austria 6675 Tyrol Austria