Ayurveda rejuvenation cure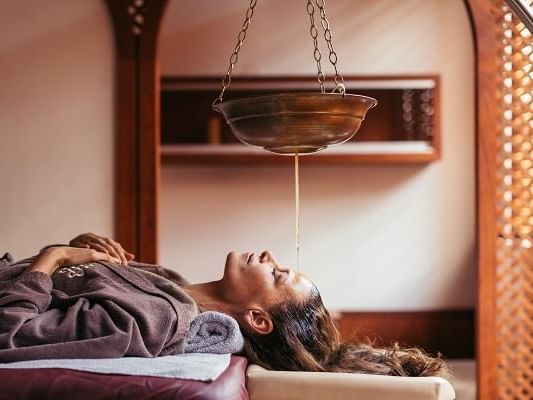 Ayurveda means science of life or science of real life. It was created thousands of years ago in India. With the help of Ayurveda, it is possible to find a good rhythm between work and life. A balance that does not overload our body or mind. Our Ayurveda Dr. Sajin Philip accompanies you during your stay in our Resort and is besides his professional qulaifications a good listener. Empathy, helpfulness and kindness are also qualities that distinguish our Ayurveda doctor.

Included:
7 nights with medically arranged dishes accocording to Ayurveda
1 medical dosha and pulse diagnosis
6 Full Body treatments (80 min) according to Ayurveda
2 treatment (50 min) according to Ayurveda
2 personal yoga
2 personal meditation 
Final medical consultation including recommendations for your everyday life
Group activities:
Daily morning gymnastics or aqua jogging
1 guided hike
Training with fitness equipment
1 medical lecture about ayurveda medicine
1 cooking course
Ayurveda PLUS:
Herbal tea and in-house spring water on demand  
Bathrobe and free use of wellness facilities such as sauna, steam room, whirlpool, gym, indoor pool.
water heater and hot-water bottle in our room
Medical emergency service
Terms and conditions
bookable from now until 23th of december 2021 and from 08th of january until 24th of april 2022.
from 2 nights