Snow, fun & excitement for everyone
Family winter in Tyrol
FAMILY HOLIDAY IN WINTER IN TYROL
SPORT, RUN AND RELAX TOGETHER
Welcome to the Tannheim Valley, a destination brimming with thrilling outdoor activities suitable for the entire family. Regardless of the season, this region guarantees endless excitement. However, let me share a little secret: embarking on a family holiday in Tyrol during winter is truly extraordinary. As soon as the majestic peaks of the Allgäu Alps glisten under their snowy coat and every inch of land is covered by a soft white blanket, an array of marvelous opportunities arises for unforgettable shared experiences among your loved ones. And guess what? Our hotel...liebes Rot-Flüh...is nestled right within this enchanting winter wonderland.
We cordially invite you - along with your children - to immerse yourselves in wintertime at our remarkable family-friendly hotel located in Tyrol. Here, amidst breathtaking landscapes and exhilarating adventures lies an ideal blend between amusement and serenity; where fun-filled moments intertwine seamlessly with tranquil relaxation. We eagerly anticipate your arrival!
WINTER TIME IS COMMON TIME
Come and experience the breathtaking beauty of our glistening, snow-covered landscape that captivates both young and old. As you inhale the crisp mountain air, one question lingers in your mind: "Mom, what exciting adventures await us today?" Rest assured, with a vibrant array of activities to choose from, every family holiday spent in Tyrol during winter is bound to be an unforgettable and distinctive experience.
Indulge in endless fun on the slopes at six small yet welcoming ski areas perfectly suited for beginners. These gentle inclines provide an ideal setting for those taking their first steps into the world of skiing! However, there's more than just thrilling descents waiting for you here. Imagine witnessing pure delight shining brightly in children's eyes as they glide down toboggan runs located nearby. Alternatively, embrace elegance by strapping on ice skates and gracefully gliding across frozen surfaces – whether it be at a designated ice skating rink or directly over Haldensee itself. And if relaxation is calling your name amidst this picturesque wonderland? Embark on serene winter hikes through our idyllic natural landscapes.
With not only exhilarating skiing opportunities but also:
Six conveniently situated ski areas
Toboggan runs suitable for all members of the family
An enchanting ice skating rink along with mesmerizing experiences atop Haldensee's icy surface
The chance to partake in curling matches
Immaculately groomed winter hiking trails awaiting exploration
Cross-country ski trails catering to various skill levels And lastly, -A delightful carriage ride through snowy terrain
There truly is something extraordinary awaiting every member of your family during a wintertime visit to Tyrol!
WARM UP & RELAX
Besides all the excitement, it is important not to overlook the importance of relaxation. The Hotel ...liebes Rot-Flüh understands this and offers an array of opportunities for ultimate relaxation. Whether you are a fan of water or saunas, or simply enjoy indulging in luxurious experiences, our hotel has something special just for you. During winter time, immerse yourself in warmth as you soak in our bubbling hot tubs or unwind in the steam bath. Let go of your everyday worries and let them melt away while lounging in one of our peaceful relaxation rooms.
Our outdoor pool is heated throughout the year with energy-infused water that will leave you feeling rejuvenated. For those days when weather isn't on your side, we also have a spacious indoor swimming pool available at any time. Indulge yourself further by taking advantage of both our indoor and outdoor hot tubs - perfect for unwinding after an adventurous day out.
To truly relax your body and mind, we offer steam baths & saunas where soothing heat envelops every inch of your being. Additionally, experience the healing benefits from infrared heat cabins which promote deep detoxification within your body.
For added refreshment during spa sessions, visit our invigorating ice fountain that will awaken all senses within seconds.
If seeking privacy and intimacy with a loved one is what you desire most during your stay here at Hotel ...liebes Rot-Flüh , then look no further than our private spa designed specifically to create unforgettable moments together.
When it's finally time to fully surrender into serenity mode; seek solace amidst cozy relaxation rooms furnished with comfortable loungers made exclusively for pure blissful moments. Complete this unparalleled experience by treating yourself to one (or more) relaxing spa treatments offered by highly skilled professionals who aim to make every moment count towards complete tranquility
"WINTER REST" IN THE FAMILY HOTEL IN TYROL
And if parents need a break all to themselves while the little ones continue to play, all-day childcare is just right during the holiday season. In our mini club, our experienced team welcomes all young holiday guests aged 3 and over with the best entertainment. With your peers you can really have fun in the adventure tower with a ball pit etc. The children's cinema and the children's disco ensure a fun evening program. And of course in the winter in the Tannheimer Valley you can go outdoors with your new friends.
Childcare in the mini club for ages 3 and up
age-appropriate leisure program
Outdoor activities
Adventure tower with ball pit, labyrinth & tunnel
Children's cinema & children's disco
small welcome and farewell gift
A WINTER IN TYROL IN A FAMILY HOTEL
Nowhere else in Tyrol can you find such a perfect combination of winter's enchanting aspects that create an unforgettable family holiday, as easily as at our beloved Rot-Flüh. Our hotel proudly holds the prestigious "Nestpartner Premium" seal of approval from Tyrol, thanks to our unwavering commitment to high quality standards and continuous training for our dedicated staff.
At Rot-Flüh, we offer spacious family suites with cozy spaces for both young and old, delightful restaurants serving mouthwatering dishes that especially cater to children's tastes. Additionally, everyone can indulge in wellness activities while surrounded by the picturesque beauty of Allgäu. When it comes to experiencing the joys of winter in Tyrol, there is no better place than our cherished family hotel - dear Rot-Flüh located in Tannheimer Valley. We eagerly await your arrival!
Our TOP offer for families in winter
Slideshow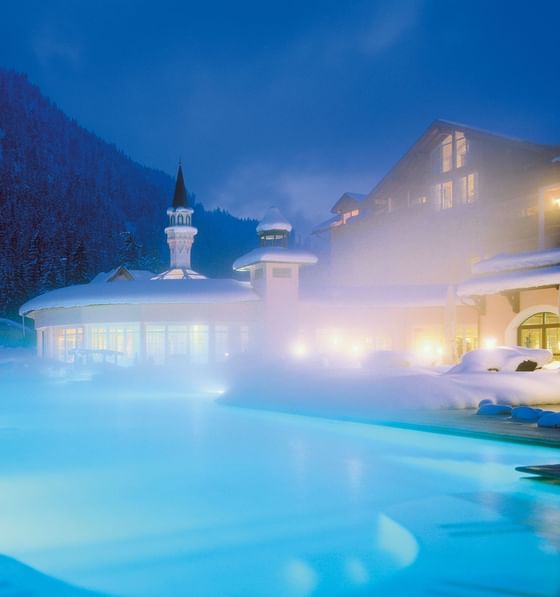 WINTER BONUS
Fantastic advantages
1 x fondue evening in the Via Mala adventure restaurant
guided snowshoe hike and guided winter hike according to the weekly program
Free ski bus in the Tannheimer Tal with the guest card (bus stop only 50 meters from the hotel)
€ 10.00 for ORJOLA Spa treatments per person and night
Families are particularly important to us in our generation company:
Nothing is as valuable as spending time with our loved ones. That is why children are warmly welcomed at ... liebes Rot-Flüh and are always in good hands in our family-run hotel.
SKI COURSE:
We would be happy to organize your skiing or cross-country skiing course for young and old.
NEW: Use the cable car for free - In winter from January 9th until 26th 2023 and in spring from March 13 to 16, 2023, the lift tickets from Monday to Thursday are included for our guests who book a minimum stay of three nights.
For 2 people per night including children free of charge
ab € 295,00
We would be happy to create an individual summer offer for your family