Family vacation in winter
Hotel ...liebes Rot-Flüh
Family vacation in winter
Hotel ...liebes Rot-Flüh
Family vacation in winter
Hotel ...liebes Rot-Flüh
Family vacation in winter
Hotel ...liebes Rot-Flüh
Family vacation in winter
Hotel ...liebes Rot-Flüh
Family holiday Tyrol winter
A favorite place for gentle winter happiness in the Tannheimer Tal
A region made for gentle winter sports at snow-sure heights in Tyrol. A family hotel, perfect for a family break, which guarantees a high fun factor for kids and plenty of opportunities for parents to retreat. That's winter holidays in the children's hotel...liebes Rot-Flüh in Tyrol
Deeply relaxed parents and exhausted little snowmen
A glittering white winter wonderland and an expansive world of water, warmth and light. Family-friendly outdoor adventures and plenty of time for relaxing moments of rest. Nowhere else can all these facets that make up a successful winter family holiday be reconciled as easily as in the Traumhotel ...liebes Rot-Flüh.
Lots of space is our plus
Incidentally, the high quality standards in childcare and the training and further education of the care staff are just one of the many reasons why the premium hotel proudly bears the "Tyrolean Nature Nests" seal of approval. The high-quality and natural weekly program as well as a particularly family-friendly accommodation in the up to 250 m² suites with whirlpool, sauna, steam bath or solarium shower contribute significantly to the fact that young and old feel completely comfortable and safe here.
Our TOP offer for families in winter
Slideshow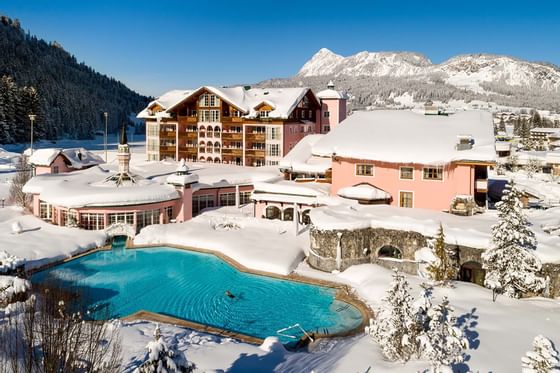 WINTER MAGIC
Fantastic advantages
1 x fondue evening in the Via Mala adventure restaurant
guided snowshoe hike and guided winter hike according to the weekly program
Free ski bus in the Tannheimer Tal with the guest card (bus stop only 50 meters from the hotel)
€ 10.00 for ORJOLA Spa treatments per person and night
Families are particularly important to us in our generation company:
Nothing is as valuable as spending time with our loved ones. That is why children are warmly welcomed at ... liebes Rot-Flüh and are always in good hands in our family-run hotel.
SKI COURSE:
We would be happy to organize your skiing or cross-country skiing course for young and old.
NEW: Use the cable car for free - In winter from January 9th until 26th 2023 and in spring from March 13 to 16, 2023, the lift tickets from Monday to Thursday are included for our guests who book a minimum stay of three nights.
For 2 people per night including children free of charge
ab € 287,00
We would be happy to create an individual summer offer for your family