Family vacation in summer
Hotel liebes Rot-Flüh
Family vacation Tyrol summer
with an alpine bathing beach, pools & mountain adventures in the Tannheimer Tal
Action for the kids like in the children's hotel. An individual wellness program for parents. Spacious family rooms and suites. Noble culinary moments. And of course a high level of security. As a multi-generational business that is allowed to accompany three growing children into life, the family hotel...liebes Rot-Flüh knows what is important for a successful family holiday.
Where is the hiking & wellness paradise?
Watch out, big and small mountaineers: on the mountain, at the lake or in the middle of meadows and forests, the Tannheimer Tal has a huge collection of games ready for you. If you keep your eyes open or put yourself in the caring hands of our "family nest" care offer, you can look forward to experiences close to nature! And parents can simply immerse themselves in our water and wellness world from time to time.
1x free up the mountain every day
Swimming or mountain? In the children's hotel …liebes Rot-Flüh you can simply do both! Thanks to our cooperation with the four summer mountain railways in the Tannheimer Tal and the "Wasserwelt Haldensee" outdoor pool, you can use one of these leisure facilities every day during your stay for free. So either unlimited access to the outdoor pool in Haldensee or 1 x ascent & descent. We activate the tickets in the hotel so that you can go directly to the turnstile without waiting!
Our TOP offer for families in summer
Slideshow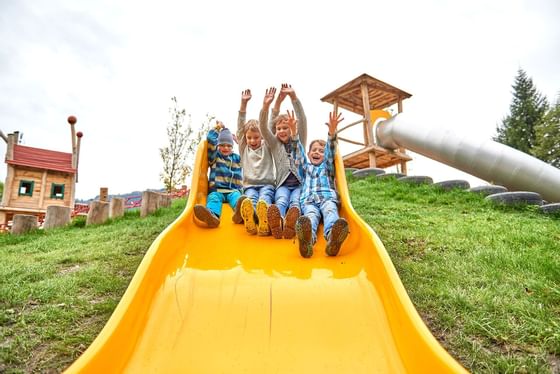 Golden Family
For bookings of 7 nights or more, you will receive the last night for free

Incuded benefits:
An eventful pedal boat ride on the Haldensee with the whole family
A herbal tour in the herb garden from the hotel with over 300 different herbs (according to the weekly program)
E-bikes to rent for a tour through the Tannheim valley
Free use of our tennis courts including equipment (reservation required)
€10.00 voucher Spa treatments for the parents per person per night in our ORJOLA SPA
Especially for children:
There will be a childcare service for kids from the age of 3 from Monday until Saturday from 10 a clock until 18 a clock, so that you as a parent can have some time together.
Babysitting service for a fee
Ultracool Children's Breakfast Crispy Corner
Children's lunch brunch - you can eat and drink as much as you want!
Cake and sweets in the afternoon
Ice cream in the afternoon as much as you want
Unlimited access to the outdoor pool with water slide at the Haldensee.
Free access to the wellness area, indoor pool and outdoor pool
Family-friendly restaurants

Families are particularly important to us:
Nothing is as valuable as the time with our loved ones. That's why children are very welcome at our ... liebes Rot-Flüh. We offer in our summer resort an entertaining sports and fun program especially for the little ones.

Summer lifts included
NEW: use the cable car for free - In order to make the selection fror"destination of the day" even easier and to give you even more flexibility, you can use each of the four mountain railways one a day (1x ascent and/or descent) during the respecitve lift operating times - and at the same time receive unlimited access to the outdoor pool in Haldensee every day.
For 2 people per night including children free of charge
from € 318,00
We would be happy to create an individual summer offer for your family